Welcome to Techphoto
hand made digital imaging for professionals and artisans
For over thirty years I was the owner of one of NJ's largest custom photo studios and color labs. In the course of managing and training a large technical staff, it became necessary for me to become the resident expert on a wide variety of skills. Among the many things I was responsible for at various times, I was the lead commercial photographer and studio manager, art director, computer geek, darkroom manager and technician, color management guru, and so much more.
I learned and did everything having to do with cameras of all kinds, lenses, lighting, location and studio shoots, advertising to industrial, products and catalogs, scanning, layouts, design and typesetting, pre-press to plate and even running an offset press, dye transfers and silver halide printing, alternative processes and darkroom tricks, masking and photocomposition, murals and displays, computer coding and management, networking and so many software programs that came and went with the decades that it's almost laughable.
The capture and reproduction of fine art requires a rare combination of scientific and technical knowledge as well as visual and aesthetic sensitivities. The same can be said for retouching and master printing. Due to the many and diverse skills I acquired over the years, I find myself uniquely positioned to service my customers.
For these reasons, it's my firm belief that there is no better service of this kind anywhere.
John Castronovo
sales@technicalphoto.com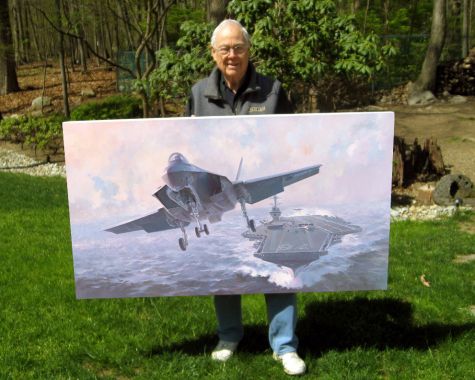 Famed aviation artist Keith Ferris with a reproduction of his commissioned oil of the F35 fighter jet
Examining a 5x10 foot canvas reproduction for Russian artist Igor Tulipanov